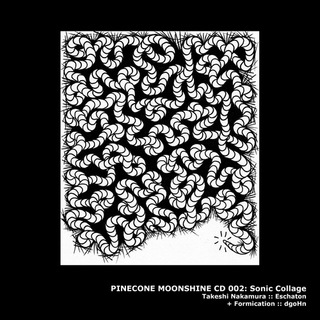 Horizons to some are desolate plains, peppered with upsetting prospects that cause us to retreat into our shell. Reversed, its an inimitably rich hotbed for discussion, where extroversion guarantees speakers a voice. Depending on surroundings, it can be squashed, set sail for failure, or bloom so segregation rules political quagmire. Much is survival of the fittest, a test of one's limits and preoccupations. Bewilderment can be irritating, and that's where strength of statement is penultimate.
"Drumfunk", think what you will, encircles these sentiments and hands down double-handed solutions. In drum & bass it was originally used by JMJ & Richie, but post-2000 breakbeat sampler Paradox propogated it to promote his funk influenced take on the genre. It's debatable whether drumfunk's stylists have broken ground from Paradox's coining, and subsquent diatribes, and if they wish to be part of it is another matter. It's either bludgeoning or elevating of credibility, but what is certain is it's spawning of a split on Subvert Central, a website tarred with the terminology brush, but actually containing more talk of outsider repertoire and subject.
Pinecone Moonshine owner Nic TVG is one individual seeing the benefits of adopting drumfunk as not a buzzword, but a term to loosely define product and its outcomes. In that sense, it consequently combats the sugar-rush of mainstream circus d&b constabulary, and pungent rudeboy attitude, something which replaced jungle's sexiness and left it to rot in the cold. Indeed, it has been said by underground heads that drumfunk is more like an extension of their beloved genre, before it commercialised and lost its exponential experimentation. Takeshi Nakamura, the latest artist on this independent entity, opposes pounding rhythmic orienteering over flippant fidget funk, hyperactive arpeggio chirping, atmospheric intrusions and subtle overlaying of miscellaneous fragments.
If the name doesn't ring a bell, it's likely that Nakamura's appearances on ambient netlabel Zymogen will have passed inspection too. Numbered rather that expressing narrative themes, only ordered by digits, the tracks merge into a coherent whole, with "1" supplanting an elastic swingbeat and tinny snares, enacting timbral gravity games with a bass groove that slithers like a wet discloth against stainless steel. "2" juts amen shards out from its underbelly, "3" warbles like a drunken rambler who's had his bottle taken, and "4" weaves melodies a la sunflower oil in stir fry, lubricating the tectonic activity and avoiding slapdash Squarepusher imitation. "Sonic Collage", surmised, finely advances a label that forages presentation and practicality lavishly on every level.

Purchase: CD