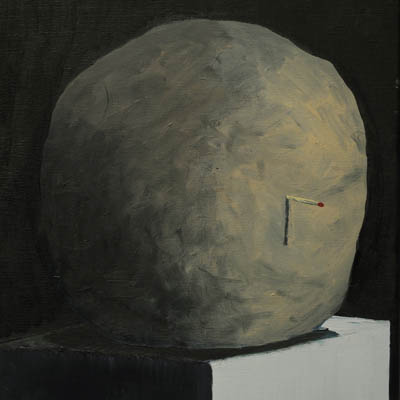 Multiply 16: the youth leave school; you're pushing thirty; climbing middle age. While "On the eve of the twenty-first century" David Toop wrote in 1995, "we are seeing an era focused on the heightening of sensation - a development provoked by a more destructured use of language, but which will usher in a new harmonics." That was 'Ambient talk and imaginary worlds' opus Ocean Of Sound. Later for James Kirby, "Tomorrow's world never came". 'An Empty Bliss Beyond This World' uncovers nostalgia beyond rosy retrospection, horns, schmaltz. Lauded classic 'Persistent Repetition Of Phrases' (Install, 2008), its reflections on memory loss in sonic artifice, bear staticity resemblance. Advert-length pieces to timewarped Strictly Come ballroom episodes. In bookend of Kirby's 78rpm pile via Berlin, transcendental parallel to lovingly kept recording libraries worldwide.
Shifting monikers from Leyland Kirby to The Caretaker this Spring, the only constant is a Mediterranean health: one avoiding you coasting into post-sleep narcolepsy without batting an eyelid. "Moments Of Sufficient Lucidity" lulls its piano sea shanty left to right on the ol' Gramophone, the needle crackle permeating all 14 tracks surrounding. What I'm most impressed by is the fine art approach. Some people retain memories at certain points in life, where you were perhaps kicking walls and bouncing off, or picked up a frequency from less filtration mentally. And for mood translation, this can equal a rocky ride. Likewise immature personality shows in stencilled words that leap out the page at you, like a struck match in the dark. This relates to "An Empty Bliss..." threefold: the track names speak for developed internal dialogue spleen, one that throbs away until on the point of regulatory collapse; into "The Great Hidden Sea Of The Unconscious". This gravitates second to the cherry-picking attribute of so many great samplists, inc. Philip Jeck, where the cranium swells to absorb all those fine lines to cut, re-edit and paste your reel to reel ethic.
But then, as a third, Kirby has acknowledgement the music/ad discrimination is always rigid to intrinsic properties of spatiality - one's distraction via marketing ideology becoming pixel-flesh. You could pin down any piece of non-chorus Ambient 'Muzak' to a late night BBC 2 intermission (see Edward Barton's 'Life On Earth series'), paradoxically, as chosen to enact corporate thematics within internal esotericism. A riveting prospect, surely, for the television designer. When we get to sound archivism, there's The Radiophonic Workshop to give much praise to, and this is where Kirby excels at revealing worthy ghosts, rather than ghoulish horror movie pastiche when he re-spins them into sonic spectre waltzes. Fundamentally, he's not doing it to appeal to the moneyspinners, nor the 'hauntology' nomenclature. "An Empty Bliss" won't force the diggers to crawl from their furrows, and I can bet a dime you'll dance to your grave - even after spirit and showtime depart from the sublime.
Purchase Digital Subscription to James Kirby's 2011 catalogue (offer closes June 1st)